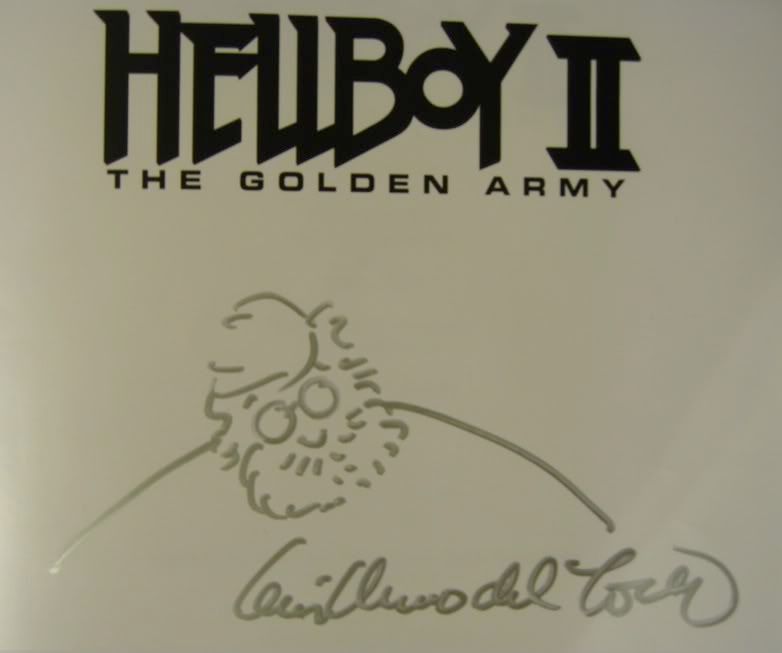 Hey folks, Michael here. I just got back from a special screening of
Hellboy 2: The Golden Army
(an amazing movie, epic in both action and emotion...I'll post more of my thoughts soon) and Guillermo del Toro was on hand to answer questions after the screening.
Of course, I had to ask Guillermo about
his thoughts on making

The Hobbit

and/or

Hellboy 3

in 3D
, especially after he had spent so much time down in New Zealand with Peter Jackson and James Cameron.
And his answer? More uncertainty.
Guillermo felt that it was too early to determine whether either film would be in 3D. He said that he would have to wait and see what a completed 3D live action film was like before making the decision, although
he did call what he had seen of AVATAR "amazing,"
mentioning that he and Jim Cameron have been friends ever since Cameron was one of the first people to see Guillermo's film
Cronos

back in 1993. He also acknowledged the possibility that 3D could very well become the norm 4 years from now, although he was hesitant to make any solid predictions.
Del Toro also mentioned that he was not yet sure whether either film would have the right story / tone for 3D. We at MarketSaw, of course,
think that The Hobbit in particular could only be made more epic and immersive if made in 3D.
So it looks like we will have to wait and see what Guillermo's plans are in regards to 3D. The one
sure
thing
at this moment, however, is that Del Toro is still weighing his decision carefully, and that nothing has been ruled in, or out.
I also had the chance to speak with Doug Jones
, of
Hellboy 1 & 2
,
P
an's Labyrinth
, and Silver Surfer fame. He was very humble and noncommittal regarding the possibility of appearing in The Hobbit films, although
h
e did betray a smile
when pressed by some enthusiastic fans...
**Editor's note: AWESOME autograph btw!